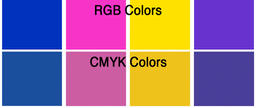 The most common graphic types that the public is familiar with are those for the Web and those for Print. Each has it's own file formats, color limitations, and size requirements. Below I have tried to clarify the differences using as little technical jargon as possible while keeping it as simple as possible.

Web based graphics generally will have a resolution of 72ppi (pixels per inch, though sometimes designated as 72dpi (dots per inch)). Web based graphics use RGB (Red, Green, Blue) color space (light based color spectrum), and the most common file extensions for web graphics are .gif, .bmp, .jpg and sometimes .png.
Print based graphics for commercial offset printers generally need to have a minimum resolution of 300dpi as commercial printers have equipment that can print up to 2400dpi. When printing at very high resolution (2400dpi) any flaws, artifacts, or pixelation in your image will be very noticeable. 
Commercial printers will request that your job be submitted using CMYK (Cyan, Magenta, Yellow, Black) color space (ink based color spectrum). CMYK is also known as full color printing or 4-color printing, and the file extensions that are the most widely preferred are .pdf, .tif, and very rarely, .jpg and .png. 
For vector graphics, commonly used in promotional products and some signage, .ai, .eps, and .cdr file formats are the most widely accepted. 
Most non-photo desktop inkjets print at a resolution of 220dpi to 280dpi and have been calibrated to use as much of the RGB color spectrum as possible, even though they actually use CMYK inks. This is done so that what you see on your screen, is as close as possible to your print out. Most copiers and printers at places such as Staples and Office Depot also use this same system.
The RGB spectrum is larger than the CMYK spectrum. CMYK inks can only duplicate about half of the colors that can be reproduced with light. In fact, RGB can not even reproduce all of the colors that our eyes can distinguish!
When printing non-photographs, it is very important to make sure that you *design* in CMYK - if you don't, you could get an expected color shift because of the difference between CMYK and RGB color spectrums.  The image below shows you an example of a possible color shift.
As you can see, submitting a job for professional printing requires a wide variety of information and knowledge. If you need someone with expertise to design your next print job, please Contact Us for your free estimate.
Related Articles: