Breathe New Life into Your Old Photos!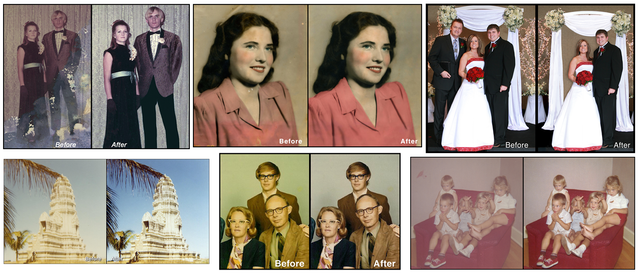 Your memories aren't yellow, dull, and faded - so don't let your favorite photos stay that way!


Your photos trigger memories….memories are a big part of who and what we are.  Wouldn't it be great to have your favorite photos match your memories?  With my skills and artistic eye, anything is possible!


Give your favorite portrait a touch-up: formal wedding, social media bio pic, anniversary, even a 25+ Olan Mills image of your grandparents can be restored to its' original color and be scratch free!


My glamorizing and retouch philosophy is "You Only Better" —  look your best, not like a plastic surgery victim!


I enhance and restore your photographs, and in many cases returning them to their original condition, but always making them the best they can be!
 
  (Scroll down to view our Photo Fix & Restoration Portfolio.  Click on a thumbnail to view larger.)


What's wrong with your favorite photos:
red-eyes, dust, small scratches

eyes and teeth needs to be whitened 

damage such as water, mold, deep scratches, tears, etc 

remove an object (or person!) from the photo. 

move people (or faces) from one photo to another 

color overcast (due to age, bad lighting, or even stage lighting (severe color overcast may not be able to be fully corrected))

over or under exposed (severe exposure problems can be only minimally corrected) 

too small (I can enlarge up to 500% depending on original size & quality of your image).


Consider these options to make your photos extra special:
artistic enhancements such as:
- black & white with a single burst of color (such as bridal bouquet)
- blurred or "spinning background"
- replace a busy/distracting background with a different image
- add a digital "frame" to the photo
create a composite (taking elements from 2 or more photos to create a new image)


using all of your favorite photos in a collage…a gift for yourself or a loved one!
Restoring and preserving your favorite photos will make them Treasured Family Momentos for years to come…and bring joy to you as you relive some of the happiest moments in your life!
3 Easy Steps to Getting Started:
1) Gather your photos 
2) Scan them as digital images at 300dpi (or you can send them to us for scanning, additional fees apply)
3) Email your photos to us
You can expect to have a digital proof to review within 5-7 business days.


Take 'getting my pictures fixed' off the bottom of your to-do list, put it at the top and be prepared to have joy and satisfaction fill your heart when you see your photos the way they were meant to be seen…and don't be surprised if they become Treasured Family Momentos!


For detailed information on photo requirements for BEST results, including scanning instructions, click here for our Photo Requirements Page.
Keep Your Precious Memories Alive!