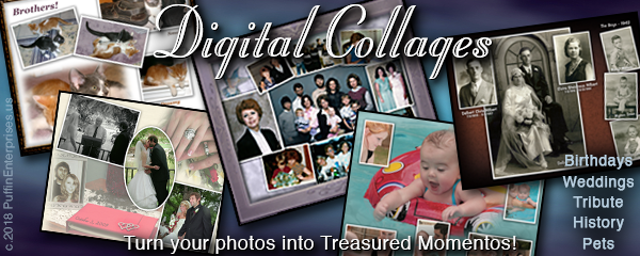 Give the Gift of Memories 
that are totally Unique & Personal!
Relive your favorite family vacation - was it the Grand Canyon, Italy, or a camping trip to Yellowstone?
Walk down the aisle every time you walk down the hall.
Embrace Grandma and Grandpa one more time.
Digital collages make a powerful impact on our spirit, and turns soulful connections and events into treasured memories that you, or your loved ones, can revisit time and time again, every time they pass them in the hall or over the fireplace.

Collages are a great way to take your favorite photos and 
turn them into a treasured family momento!
         (Scroll down to view our Collage Portfolio.  Click on a thumbnail to view larger.)


Remember that ridiculous joke between Dad and your brothers -- make them laugh every time they read it printed on their collage!
Adding text or graphic images can make your collage even more personal and memorable!  Favorite hobby, collectible or poem can add that extra personal touch to your collage!
How It Works:
Send your images to Puffin Enterprises and I will create a collage that makes your memories come alive!
Once the final image is approved and full payment rendered, you will receive your image as a high-resolution download, and if you wish, I will send you a digital copy on a CD.  Print images from a highly reputable (yet affordable) finisher are available on a variety of paper, for those who prefer to hold their memories in their hands.
While I have created over 30 albums for JCT Photography and other clients, there is no standard template, as each photo tends to call to its own positioning and I'm happy to let them lead the way!